Normal Form

Any well designed DB adheres to the relational paradigm, and implements the so-called Normal Form.
Very simply explained in plain words:
you'll first attempt to identify any distinct category (aka class) present into your dataset
and simultaneously you have to identify any possible relation connecting categories.
data redundancy is strongly discouraged, and has to be reduced whenever is possible.
Consider the ISTAT Census 2001; identifying categories and relations is absolutely simple:
At the lowermost hierarchy level we have obviously Local Councils.
Each Local Council surely belongs to some County: so a relation exists connecting Local Councils and Counties.
To be more descriptive, this one is a typical one-to-many relationship
(one single County / many Local Councils: placing the same Local Council on two different Counties is absolutely forbidden).
The same is true for Counties and Regions.
There is not real need to establish a relation between Local Councils and Regions, because we can get this relation using the County as an intermediate pivot.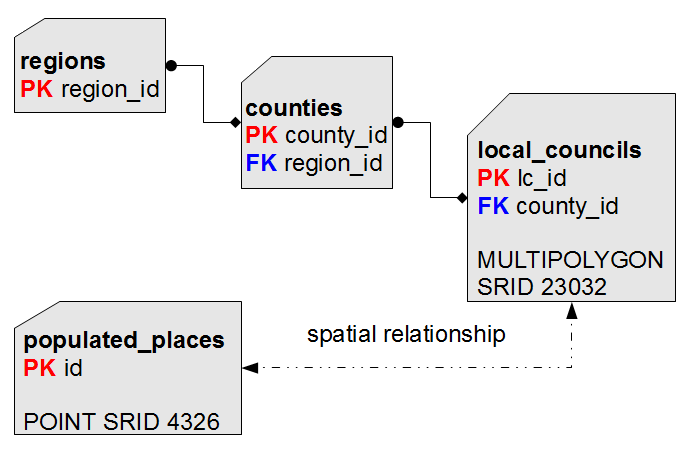 Accordingly to this, it's quite easy to identify several flaws in the original Shapefile's layout:
a POP2001 value is present for Local Councils, Counties and Regions:
well, this one clearly is an unneeded redundancy.
We simply have to preserve this information at the lowermost level (Local Councils):
because we can then compute anyway an aggregate value for Counties (or Regions).
a second redundancy exists: there is no real need compelling us to store both County and Region codes for each Local Council.
Preserving the County code is just enough, because we can get a reference to the corresponding Region anyway simply referencing the County.
a Geometry representation is stored for each County and Region:
this too represents an unneeded redundancy, because we can get such Geometries simply aggregating the ones stored at the Local Council level.
Then we have the cities1000 dataset: which comes from a completely different source (so there is no useful key we can use to establish relations to other entities).
And this dataset is in the 4326 SRID (WGS84), whilst any ISTAT - Census 2001 dataset is in the 23032 SRID [ED50 UTM zone 32];
so for now will simply keep this dataset in a completely self-standing state.
We'll see later how we can actually integrate this dataset with the other ones: after all, all them represent Italy, isn't ?
For sure some geographic relationship must exist ...